Automotive Scrap Metal/Automotive Wrecking (Car/Truck/Bike Scrap)
What is Automotive Scrap?
Automotive scrap includes cars, trucks, motorbikes and almost anything used for transport. The heavy use of metals in our vehicles makes them a great place to source metal to recycle.
Automotive scrap can include vehicle bodies, engines, wheels, exhausts, wiring and anything else containing metal.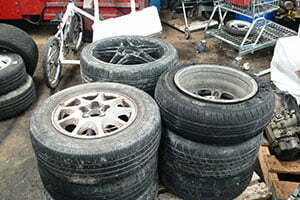 Why scrap my car rather than sell it?
No warrant? Unregistered? Not worth the effort fixing up to sell? Bring it to us!
If your car is road legal, it is likely you will get more for it on the open market. If you simply need it gone, give us a call. Not only can we dispose of it, but we can even pick it up to save you risking fines for driving it on public roads.
What metals are in my car, bike or boat?
Vehicles have a huge range of metals from brass to stainless steel. Almost every type of metal will be in a vehicle somewhere, the hardest part is knowing where to look. Older vehicles often have large chassis and heavy cast iron parts and modern vehicles have significant volumes ofelectrical wiring.
The biggest challenge with most vehicles is the volume of hours required to separate the components into relevant groups and remove non-metal parts.
Do I have to pull apart my car?
No. We buy cars complete.
In order for us to scrap a vehicle, we need to put significant man hours into the stripping and sorting of the scrap. This coupled with the usual need to pick up the vehicle, results in reasonable cost incurred with the collection of vehicle scrap.
How much will you pay for my automotive scrap metal?
The value of each car will change significantly. A Suzuki Alto will have a curb weight of 700kg, where a 1984 Ford will tip the scales at 2 tonnes! As car scrap metal is priced by the KG, the overall weight will have a significant impact on the value.
Older cars also have more steel components, compared to more modern cars which have focussed on being light weight and economical. More modern cars have reverted to plastic and light weight metals compared to the heavier steel components of earlier years.
For specific metal types please visit the relevant pages: